Regular price
$133.00 USD
Regular price
Sale price
$133.00 USD
Unit price
per
Sale
Sold out
💗 Community's Favorite mit wandelbarer Tauschklappen-Funktion
🪡 Für Anfänger geeignet - inkl. Gelinggarantie
👜 Ausführliche Anleitung für dein professionelles Ergebnis
🫶🏼
Vorbestellung mit Eigenproduktion: Lieferung bis Ende Oktober
🎁 Kostenloser Versand innerhalb DE für dieses Produkt
🌈
 Unsere aktuelle Special Edition aus beprägtem Velours-Leder
Detailed information and variants

Size of the bag
Dimensions: 25 cm wide, 21 cm high, 7 cm deep. Inside pocket: 20 cm wide. A 0.5l bottle, a large wallet and a few small items (glasses, make-up, cell phone) fit into the saddle bag - your ideal companion for on the go.

Exchange flap
The flap of this bag is attached to the back of the bag with five binding screws and can be swapped out as you wish. So you can customize the bag even more and match it to your looks. Alternatively, you can sew the flap permanently to the bag.

Carrying options
Thanks to the different wearing options such as a chain, statement strap or leather strap, you can style your saddle bag both chic and casual and quickly adapt the look of your bag to any occasion.
Contents of the DIY box

In the DIY box you will find everything you need to make your bag:

Leather, reinforcement and lining

Leather pieces in the color and texture of your choice, cut out and provided with stitching holes
Cut reinforcement parts made of bonded leather
Cut lining pieces made from canvas fabric in the color of your choice

Metal accessories in light gold or silver

Magnet to close the bag
D-rings for attaching your chosen carry style
5 binding screws for fastening the replacement flap
If selected: the carrying variant(s) of your choice

Supplementary Materials & Tools

Sewing thread in the matching leather color
Saddlery needles with a blunt tip
Document clips to hold the leather pieces together while sewing
Leather glue for bonding lining and leather
Brush for applying the glue
Edge color in the color of the leather
Basecoat as a primer before applying paint
Edge roller pen for applying edge paint and basecoat
Sanding sponge for edge processing
Mini screwdriver with slot for fastening the flap screws

Step-by-step instructions & videos

Download link to the detailed, illustrated step-by-step instructions for making your saddle bag (DE, EN, FR)
Download link to the detailed instructions for the basics of leather processing (DE, EN, FR)
Access links to our three explanation videos for the basics of leather processing (DE, EN)
Level of difficulty & guarantee of success

Difficulty level: 1/3

The Saddle Bag is also great for beginners. With our step-by-step instructions and video tutorials on the basics, you will get all the important information you need to make this bag yourself by hand. Start now and learn the basic techniques of leather crafts, such as:

Saddle stitch
Bonding leather and other materials
Edge processing

Guaranteed success

Since the materials are already cut out and have seam holes, they fit together exactly. This means nothing can go wrong and you can start producing it straight after receiving your DIY box. If you ever need help with production, you can always contact our popular customer support via email.

Still unsure?

Check out the community reviews and tons of great pictures of the finished results! According to a survey, 94% of our customers have never worked with real leather before ordering from us, or have only completed small craft projects.
Personalization Options

You can optionally apply various personalizations to the Saddle Bag. Choose between embossing, the trapunto technique or use pocket patches and rivets to customize your bag.

embossing

The embossing is applied to the leather during production. Letters are clamped into our machine, heated and pressed onto the leather with or without foil. The letters/shapes are approximately 8mm high.

You can choose:

Color of the embossing: Foil in silver, light gold or blind embossing without foil
Position on the bag: bag body, inside pocket, statement strap
Text or motif (e.g. made by me lettering, our logo or an individual monogram)

trapunto technique

Here, forms made of bonded leather are glued between the leather and the lining and shaped against a firm base with an edge former. The result is a raised 3D effect that is more striking than the embossing due to the letter height of 6 cm.

The technique is implemented by yourself (video tutorial available) and is best implemented with our smooth leather or another thinner leather.

Here you choose:

Ready-made letters or motifs with a height of 6 cm
Alternatively material in one piece to realize your own patterns and shapes

Patches, bag charms, rivets

We also offer other personalization options such as leather bag patches, bag charms and rivets. You can order these as separate products in our online shop.
Payment & Shipping

Payment options

SOFORT transfer (login via your online banking)
Payment via PayPal
Payment with VISA, Mastercard or Maestro
Payment via ApplePay or GooglePay
prepayment via bank transfer

Shipping & delivery time

The delivery time is between two and twelve working days.

Sounds long? It is!
Since we produce most products manually to order with great attention to detail, we need this time. The production-to-order approach also allows us to offer you several products from the different leather colors instead of just one pre-produced model. Furthermore, we only produce what was actually purchased - to ensure responsible use of our resources.
View full details
What makes our DIY boxes so special
Handmade by you

Imagine you create something with your own hands and you can proudly say: I made it myself! An indescribably beautiful feeling that makes you appreciate your favorite bag even more.

Exactly your style

Choose from countless color and style options and put together your DIY box according to your wishes. Personalize your leather accessory and make it something very special that nobody else has.

Quality matters

The DIY boxes are handmade in Germany after ordering. We pay particular attention to using high-quality materials to ensure that your unique piece has a long life.
More information about the production of your bag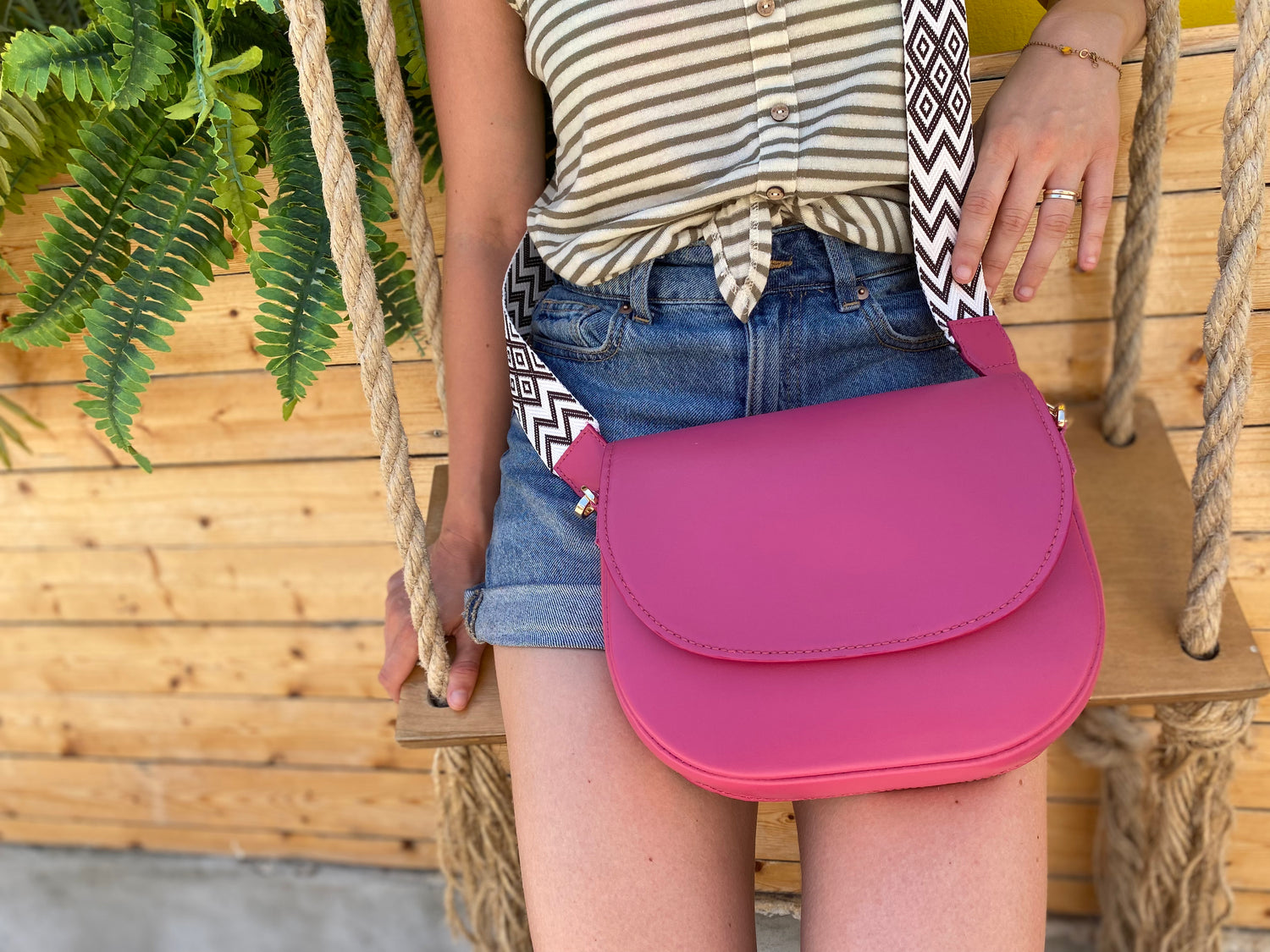 How does it work?

Our DIY box is designed so that you can make your own bag without any previous knowledge of leather craftsmanship. All the materials you need are included in the DIY box, you don't have to buy anything else.

The highlight of our DIY boxes:

The parts are already cut and provided with holes for sewing. This way we can guarantee that everything fits together perfectly and that you can sew the bag by hand without any effort. When it comes to metal accessories, too, we make sure that we only use parts that can be attached without special machines and are still firmly fixed.

As soon as you have put together your DIY box, you will receive an e-mail from us with the order confirmation and access to the instructions and basic videos. You can then look at these in advance or when your DIY box arrives. And then you can get started!
Is the project suitable for beginners?

Our clear answer: YES!

Why are we so sure about that?

Because over 7,000 people have already sewn one of our DIY boxes and over 92% of our customers have never worked with leather before or have only done small handicraft projects. Because the leathercraft techniques of gluing , sewing and edge processing are repeated over and over again and because we have created detailed explanatory videos for all three topics, you will have learned everything you need to make your leather accessory in just a few minutes.

In addition, the leather parts are already cut and provided with sewing holes. So, technically, there's only one sensible way for the pieces to fit together. Of course, we have also explained this with photos and text in our step-by-step instructions.

If, contrary to expectations, you have any questions, our popular and highly rated customer support will be happy to help you. You can reach us Monday to Friday from 9 a.m. to 5 p.m. via email at hello@bagsandpieces.co.

An important clue:

This DIY project is perfect for you if you like trying new things and generally have a certain affinity for DIY and crafting. You don't need to be particularly handy, but you should still enjoy making your own and be willing to learn new techniques.
How long does production take?

As a rough guide, the Saddle Bag takes about 8 to 10 hours to manufacture (including drying times for the edge paint). If you have never made a bag before and are looking at the instructions and videos for the first time, it may take a little longer.

Sounds long?

It is! In the end, however, this is what differentiates handmade things from fast fashion. Many of our customers say that they have a completely different appreciation for their handmade products and are incredibly proud to own a 100% individual and handmade handbag. And beware: addictive!

So if you want some me-time, a balance to your everyday life or some creative time with friends and you enjoy learning new techniques, then time flies by. You can also split the steps up. Another advantage: the production does not take up much space and you can pack and unpack your DIY box whenever you have time.
Where does the leather and the rest of the materials come from?

The leather in our standard collection comes from a Veneto tannery that has been working with leather for more than 20 years and supplies many well-known luxury leather goods labels. With innovative methods, especially in the area of ​​water treatment and resource-saving techniques, the tannery combines traditional craftsmanship with modern expertise.

The leather in our special editions mostly comes from surplus sales in Tuscany or is our own production that we commissioned from Italian tanneries. Surplus sales are leftover stocks from major luxury leather goods labels who no longer want to use these leathers as they work in seasonal collections. The leather is carefully selected by us on site, so that we can also offer very good quality and great features here. Treasure hunt, next level!

The other materials such as metal accessories, straps and other supplementary items come from suppliers in the leather processing industry. We source these from all over the world but especially Italy, Spain, Portugal, China and France depending on where we can find the best product for your DIY box.